Want
to buy
to sell
an electric car ?
Be smart and request a full report
showing the status and history of the high voltage battery

Our electric vehicle health certificates are an invaluable aid to the purchase of a used vehicle. The tests are carried out without adding a box, or handling around the ODB socket,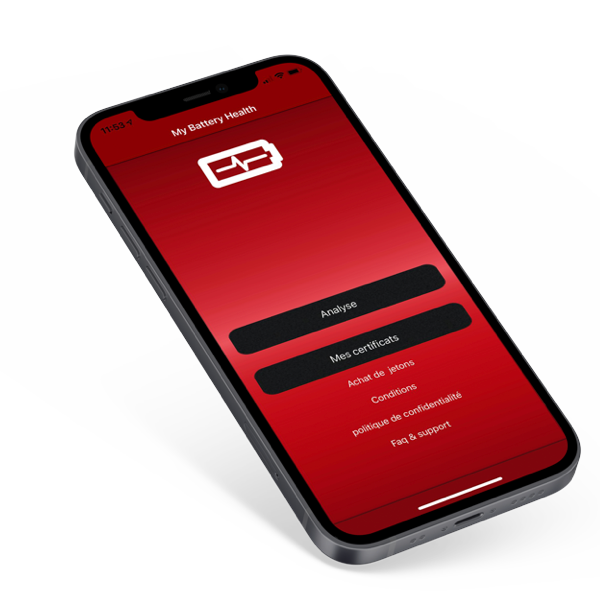 The mobile app that takes care of
your vehicle
Without the addition of a device or manipulation of the OBD port,
MyBatteryHealth is a mobile app that allows owners of electrified vehicles to obtain a report assessing the condition and value of their battery, the main component of tomorrow's cars. This report, which presents all recorded tests, can be viewed anywhere, anytime, simply by entering the vehicle's VIN.
We provide a practical and reliable solution for anyone wishing to ensure the health of their traction battery. With our app, you can anticipate premature battery wear and contact the manufacturer if necessary for a thorough inspection.
By choosing MyBatteryHealth, you opt for a comprehensive solution that allows you to better value your vehicle and ensure its long-term performance. Our easy-to-use app gives you access to all the important information regarding your battery's health.
We believe in a world where everyone can enjoy the benefits of electric mobility with confidence and simplicity….
Are you looking to sell your electric car at the best price or buy a reliable used one? Look no further than My Battery Health app – the easy way to get a comprehensive assessment of your electric car's traction battery health.
Who's this
application

for
Individuals wishing to buy or sell a used electric car can consult an easy-to-understand report that allows them to check and compare the battery range and performance of all electric and hybrid models on the market. Our report presents the history of all battery tests in the form of a graph, which allows for a better visualization of the wear curve and anticipation of the future.
Automotive industry professionals who want to improve the quality of their service by offering their customers complete and detailed reports on the health status of used electric and hybrid vehicle batteries. We offer a subscription service that provides customized service, with a dedicated web space where all reports are sorted by date, brand, or model. The health report is printable and verifiable by future buyers using a QR code on the document. This service allows you to stand out from the competition by offering a superior quality service and guaranteeing the reliability of the vehicles sold.
Stand out from the competition and offer a unique service to your customers!
We centralize real-time monitoring of the health of all batteries in a fleet, providing operators with a single source of data on SOH - thus reducing the total cost of ownership (TCO) of electric vehicles by up to €18,000 per vehicle. MyBatteryHealth customers benefit from a comprehensive view of their fleet, optimized asset valuation, and up to 30% improvement in battery life, resulting in huge cost savings and benefits. Whether your fleet has dozens or thousands of electric vehicles, we'll help you identify anomalies in batteries, anticipate failures, and propose improvement strategies that reduce your costs and eliminate risks.
So why wait? Subscribe today to the "Pro" version of MyBatteryHealth and discover the power of our innovative application to provide the best service to your customers.
Our
application

advantage
My Battery Health is the story of three engineers who have been immersed in the world of computing and electric vehicles for years.
They were among the first French drivers of Tesla, the iconic precursor manufacturer of electric cars. The three founders quickly identified the need to have reliable and secure indicators for the maintenance of their environmentally friendly vehicle. They looked at a solution to predict and optimize battery life.
That's when My Battery Health was born in 2020.
Drawing on their experience in electric vehicles, their tool makes it possible to test and simulate different use cases, to optimize the operating strategy and to predict the remaining life of the batteries.
Our partners
Predicting and optimizing the life of an electric vehicle battery is now possible thanks to the trust of our partners!
TEST THE BATTERY OF YOUR
ELECTRIC CAR
Obtain a professional certificate that estimates the state of health of your electric car via a complete and secure report.
@2022 My Battery Health. Tous droits réservés