Health

report
THE SOLUTION FOR THE RESALE OF ELECTRIC VEHICLES.
By downloading our application, you get the first traction battery health test published by a trusted third party.

A must if you want to take care of your electric car.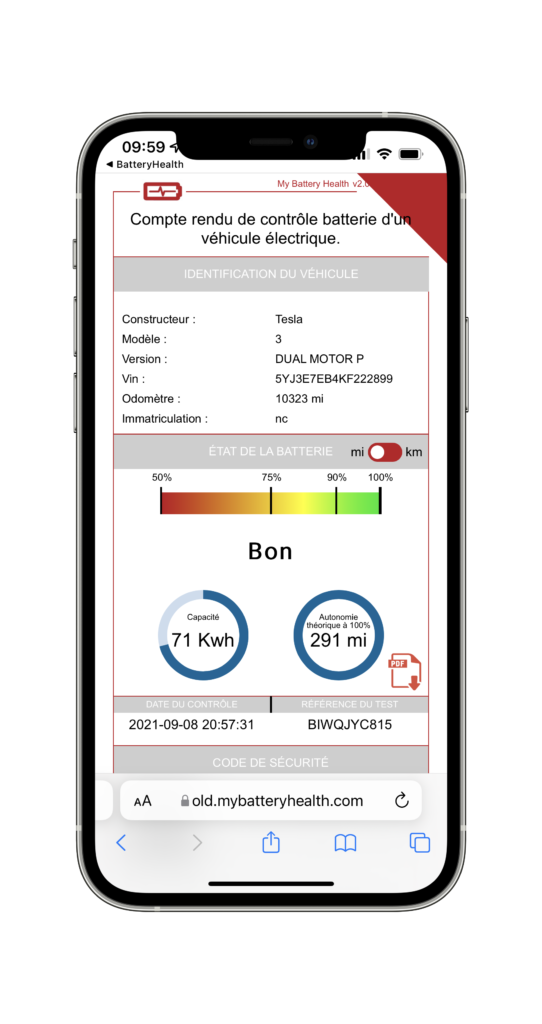 Why
My Battery Health
Peace of Mind
Independent of any industrial or financial group, we offer innovative services to facilitate the adoption of electric vehicles.
My Battery Health is a mobile application that allows owners of electrified vehicles to assess the level of battery wear, the main organ of tomorrow's vehicles. It delivers a detailed report that can be consulted anywhere, anytime.
The benefits of this report are multiple:
The solution offered by My Battery Health facilitates the resale of electric vehicles and increases the value of your car by guaranteeing the health of its battery.
By checking the condition of your car's battery every year, you can anticipate premature wear and, if necessary, contact the manufacturer for a thorough check.
How does it
works
Innovation
My Battery Health uses an innovative diagnostic method, based on long experience and an increased understanding of battery aging mechanisms. Our analysis software proceeds by incremental capacity calculation, and is doubled by the calibration method of the different battery packs, giving results with an accuracy of around 2%.
The data required for the test comes from the Battery Management System (BMS) of the batteries or calculated outside the vehicle from the data entered by the user. These methods make it possible to know precisely the state of health of the battery (SOH, or State Of Health).
We specify on our report, the state of the battery, its theoretical autonomy, and its capacity in kWh.
It is easy for anyone to compare each vehicle in the same range.
Our
Ambition
shared value
Our health attestation keeps a complete account of your battery, secured in the Blockchain.
It is accessible when you scan your QR code to view it. You can easily share it with a potential buyer or your insurer. Because we are committed to protecting your privacy, anonymity is preserved throughout the process. Your profile data is encrypted and protected to preserve your privacy.
Focus on the features of
the application​
TEST YOUR ELECTRIC
CAR'S BATTERY
Obtain a professional report that estimates the state of health of your electric car via a complete and secure report.
@2022 My Battery Health. All rights reserved