Need
to buy
to sell
an electric car ?
Be smart and request a full report
showing the status and history of the high voltage battery

Our electric vehicle health certificates are an invaluable aid to the purchase of a used vehicle. The tests are carried out without adding a box, or handling around the ODB socket,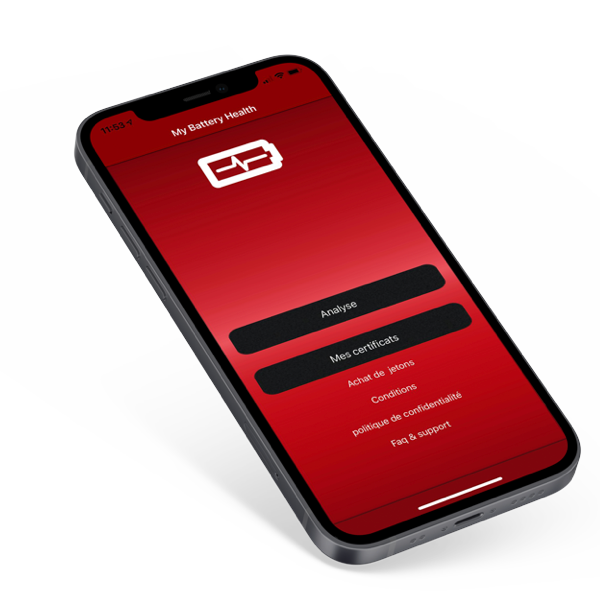 The mobile app that tests the battery life of all vehicles
Electric​s & PHEV
Without adding a box, or handling the ODB socket,
"MyBatteryHealth", the mobile app that allows owners of electrified vehicles to obtain a report assessing the condition and value of the battery, the main organ of the cars of tomorrow. This report, which presents all the tests recorded, can be viewed anywhere, anytime, by simply entering the vehicle's VIN.
Independent of any industrial or financial group, we offer innovative services to facilitate the adoption of electric vehicles.
We believe in a world where anyone can confidently buy a used electric vehicle without worrying about their battery degrading…
Do you want to sell your electric car at the best price or buy a reliable used one?
Get traction battery health easily with the My Battery Health app.
Who's this
application

for
Les particuliers qui souhaitent vendre ou acheter une voiture électrique d'occasion. Vous pouvez sur un rapport facile à comprendre, vérifier et comparer l'autonomie de la batterie ainsi que les performances de tous les modèles électriques et hybride du marché. Vous retrouverez dans notre rapport l'historique de tous les tests de batterie effectués, présenté sous forme d'un graphique permettant de mieux visualiser la courbe d'usure et anticiper le futur.
Les conducteurs de voiture électrique qui peuvent ainsi vérifier ou suivre l'usure de la batterie de traction de leurs véhicules. Un simple test peut rassurer sur l'état de santé de la batterie ou au contraire alerter et prévenir d'une panne à venir.
Afin de mieux valoriser les véhicules, Les professionnels de la revente de véhicules, les réparateurs ou les loueurs de voitures électriques et hybrides peuvent souscrire à la version « pro » de l'application et bénéficier d'un service sur-mesure. Nous proposons un espace web dédié ou vous retrouvez l'intégralité des rapports effectués, classés par date, marque ou modèle. Le rapport de santé est imprimable et vérifiable par les futurs acheteurs à l'aide d'un QR code présent sur le document.
Ce rapport d'état de santé du véhicule vous permet de vous démarquer de la concurrence, de rassurer les futurs acheteurs, et de donner la meilleure valeur possible aux véhicules électriques ou hybrides. 
Il permet également de contrôler régulièrement l'évolution d'un pack, et d'anticiper les pannes à venir. L'immobilisation d'un véhicule électrique pour un changement de batterie de traction peut engendrer des coûts supplémentaires importants, et une anticipation peut éviter une panne grave du bloc batterie.
Our
application

advantage
My Battery Health is the story of three engineers who have been immersed in the world of computing and electric vehicles for years.
They were among the first French drivers of Tesla, the iconic precursor manufacturer of electric cars. The three founders quickly identified the need to have reliable and secure indicators for the maintenance of their environmentally friendly vehicle. They looked at a solution to predict and optimize battery life.
That's when My Battery Health was born in 2020.
Drawing on their experience in electric vehicles, their tool makes it possible to test and simulate different use cases, to optimize the operating strategy and to predict the remaining life of the batteries.
Our partners
Predicting and optimizing the life of an electric vehicle battery is now possible thanks to the trust of our partners!
TEST THE BATTERY OF YOUR
ELECTRIC CAR
Obtain a professional certificate that estimates the state of health of your electric car via a complete and secure report.
@2022 My Battery Health. Tous droits réservés